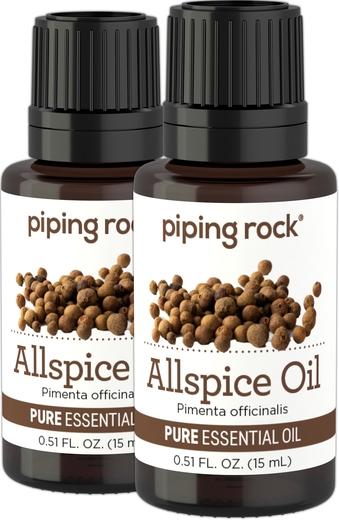 Allspice oil is steam distilled from the tree's berries and is also known as pimento berry oil. Its scent is deep, warm and spicy with notes of pepper and cloves. In aromatherapy, Allspice oil is:
Stimulating and revitalizing**

Strengthening for determination**

Soothing as it instills bright moods**
Read more about Allspice Oil
What is Allspice?
Also known as pimento berry or Jamaican pepper, allspice (Pimenta officinalis) is an evergreen tree that can reach a height of 30 feet. It is a member of the myrtle family and can be found on its native islands in the West Indies, as well as in Central America. Allspice berries earned their name from their distinct flavor profile, combining notes of clove, cinnamon, cardamom, and pepper.
The unique flavor of allspice has earned it an important part in cuisines around the world; most notably, it is the key spice in famous Caribbean jerk seasoning. Upon his voyage to the Caribbean, Christopher Columbus mistook allspice berries for the highly prized black pepper and brought it back to Europe, where it quickly gained the love of taste buds far and wide. Today, it is a big part of many Middle Eastern dishes, and is even a part of Ayurvedic wellness traditions!
Allspice Essential Oil
Before allspice essential oil can be distilled, the berries are first picked before ripe and crushed. They then undergo steam distillation to extract their unique, deep essential oil, with its warm, spicy aroma that boasts notes of pepper and clove. This oil can be found in youthful skincare products, and in aromatherapy is wonderfully stimulating and revitalizing. It can help instill determination and bright moods while easing occasional nerves and mental fatigue.
Blending essential oils opens up a world of aromatherapy possibilities! Other oils that complement allspice oil's peppery fragrance include: bay, black pepper, cistus, coriander, geranium, ginger root, lavender, myrrh, neroli, orange, patchouli, and ylang ylang oils.
PipingRock's pure Allspice Oil is available in ½ oz. bottles.
Directions for Use
Add 3-5 drops of Allspice Oil to a diffuser or vaporizer, to a bowl of steaming water or a hot bath to fill a room with its warm, spicy scent. To use topically, add ~5 drops of Allspice Oil to ~10 mL of any PipingRock carrier oil.
Allspice Oil is for external use only and should be diluted in a carrier oil such as sweet almond, jojoba, grapeseed or avocado oil before being used topically. Do not apply to broken or irritated skin. Always consult your trusted physician before adding any essential oil to your regimen, especially if you are pregnant, nursing or taking any medications. Discontinue use and alert your doctor should an adverse reaction occur. Keep out of reach of children and away from eyes and mouth. Essential oils are flammable.