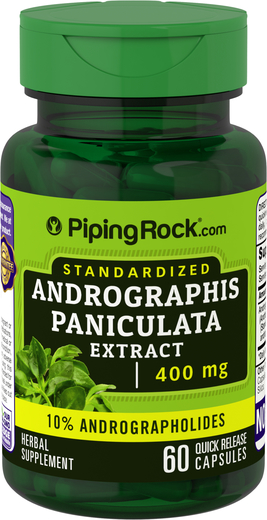 Andrographis paniculata, often referred to as the "king of bitters" is an herbaceous plant native to Sri Lanka and India. Andographis:
Supports a healthy immune system**

Promotes overall wellness**

Is traditionally used in Ayurvedic traditional wellness practices
Read more about Andrographis
What Is Andographis?
Andrographis paniculata is a tall slender herb found in various regions of South Asia, particularly India. Long valued in Ayurvedic and Chinese wellness traditions, it is known for its pungent flavor and carries the nickname "King of Bitters." The leaves and stems of the plant are the most frequently used parts, though the roots have also been incorporated into health practices. In recent years, it has become more common outside of Asia, with a marked rise in popularity in Scandinavia during the winter months as an immunity-supportive tonic for seasonal health concerns.
Readily absorbed into the circulatory system, andrographis consists of flavonoids and lactones, notably a compound called andrographolide, which gives the plant its bitter taste and has significant inflammation-modulating activity. Associated with these properties, the herb optimizes immune function, helping to uphold the body's natural defenses. Studies have shown that it is particularly effective in its support of upper respiratory tract wellness. While research is ongoing, some small studies suggest that andrographis appears to influence immunity in a number of different ways: It may support the spleen and lymph system, promote white blood cell production, enhance white blood cell performance, and fine-tune immune responses.
While the herb is most commonly associated with immune health, research has also revealed that it seems to promote digestive wellness, encouraging ideal functioning of the gastrointestinal tract while reinforcing robust immune performance. Further studies suggest that andrographis also has antioxidant activity and may promote heart and cardiovascular wellness.
Andrographis Supplements
Andrographis supplements are commonly sourced from the stems and leaves of the plant. These supplements are generally offered as capsules and tablets, but are also available as a liquid. It is sometimes included in immune-supporting formulas along with another popular herb, echinacea. In fact, andrographis is occasionally referred to as "Indian echinacea."
Directions For Use
Always consult with your trusted healthcare provider prior to adding any supplement to your regimen. There is no set recommended daily allowance for andographis supplements. Refer to individual label directions for more information.