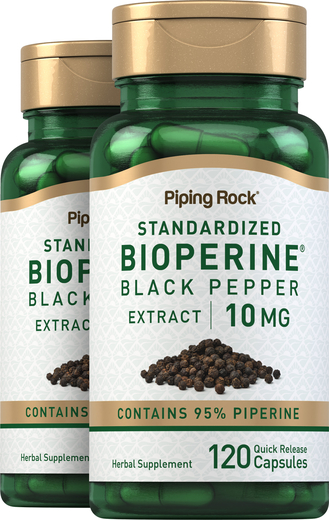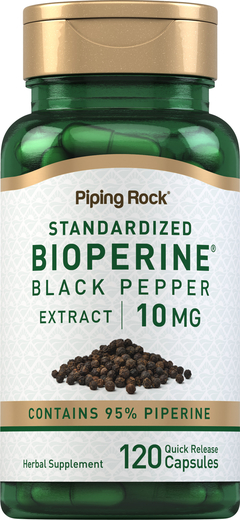 Bioperine® is a patented black pepper extract that boosts the absorption of other nutrients. ** It may help to:
Read more about Bioperine
What Is Bioperine
®

?

Bioperine® is a branded supplement ingredient that features piperine sourced from the common spice black pepper (Piper nigrum). The familiar black pepper plant, with its distinct peppercorns, is native to the damp, rich soils of Southern India where they are harvested right before ripening and left to dry in the sun before undergoing the extraction process.

Outside of its widespread culinary use, pepper has an extensive history of use in various health traditions around the world. Black pepper is considered to be an especially crucial component of Ayurvedic folk wellness practices, with nearly two-thirds of this ancient system's health-supportive herbal preparations incorporating Piper nigrum for its beneficial support of healthy digestion and nutrient absorption.**

Although black pepper as a culinary spice and traditional wellness herb has been suggested to have health benefits, these uses typically supply low levels of active nutrition.** In the advanced, patented Bioperine® form, the black pepper extract is standardized to contain no less than 95% piperine.

Bioperine® has been suggested to assist with nutrient absorption by increasing blood supply to the gastrointestinal tract, enhancing the emulsification of content in the gut, and helping to increase active nutrient transport.**
Bioperine
®

Products

Bioperine® products are derived from the fruit of the black pepper and/or long pepper plants. Its proprietary extraction process guarantees a 95% concentration of piperine in each serving. The supplement may be available as capsules, tablets and softgels. Since it is intended to aid the absorption of other nutrients, it is often combined with additional ingredients, including bioavailable coenzyme Q10 (CoQ10) and curcumin supplements.**
Directions for Use
Talk to your health professional before starting routine supplementation with this product or any other nutritional supplement. While there is no standard suggested amount, capsules are regularly offered in 10 mg doses.
Bioperine® is protected under one or more of the following U.S. patents: #5,536,506; #5,744,161; #5,861,415; #5,972,382 and #6,054,585. Bioperine® is a registered trademark of Sabinsa Corp.