Black Bean Supplements
(2)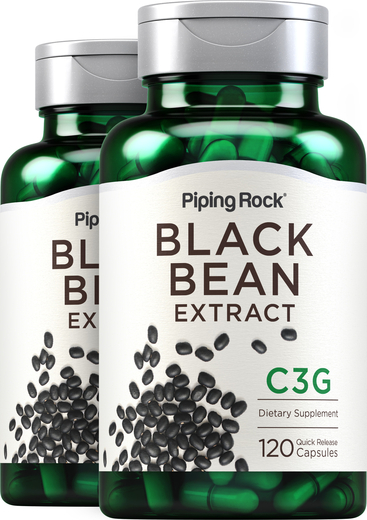 Black beans are native to the Americas but have been cultivated all over the world. Black beans:
Are a staple in many Latin American culinary practices

Contain Cyanidin and its glucoside, C3G

Help support eye health**
Read more about Black Bean Supplements
What are Black Beans?
Native to the Americas but now cultivated all over the world, black beans have long been a staple in a variety of Latin American cuisines. A variety of the common bean (Phaseolus vulgaris), the common black bean is known for its dense, meaty texture, which makes it popular in vegetarian dishes.
Throughout the years, black beans have been used in numerous cuisines around the world as their cultivation became more widespread. They have also been used in traditional practices to support overall wellness.** Black beans contain a natural compound and pigment called Cyanidin, giving the beans their color, and its glucoside Cyanidin-3-Glucoside (CG3) which supports eye health.**
Black Bean Supplements
PipingRock Black Bean supplements are available in quick release capsules for optimal absorption.
Directions For Use
Always consult with your trusted healthcare provider prior to adding any supplement to your regimen. There is no set recommended daily allowance for Black Bean supplements. Refer to individual label directions for more information.