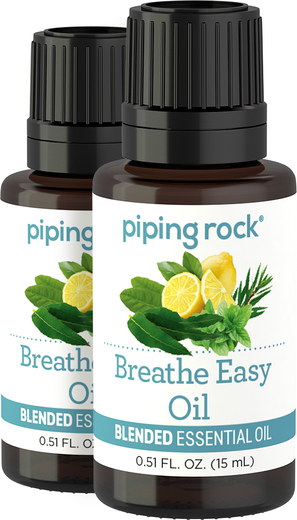 Awaken your senses with our Breathe Easy essential oil blend! In aromatherapy, the sweet, minty, and herbal aroma of Breathe Easy oil:
Uplifts and revitalizes**

Refreshes the senses**

Shines when used in a diffuser
Read more about Breathe Easy
What is Breathe Easy Oil?
A must-have in any aromatherapist's collection, Breathe Easy oil combines Bay, Lemon, Peppermint, Rosemary, Eucalyptus, Tea Tree, Cardamom, and Ravensara essential oils, creating a blend that emits a sweet, minty, and herbal aroma that refreshes the senses. Add to a diffuser or humidifier to experience the full spectrum of aromatherapy benefits this blend has to offer!
Breathe Easy Essential Oil
We've created our Breathe Easy blend by combining steamed distilled bay leaves, flowering peppermint plants, rosemary sprigs, eucalyptus leaves and twigs, tea tree leaves, cardamom dried seeds, and ravensara leaves with cold-pressed lemon rinds. Breathe Easy oil's scent is sweet, minty, and herbal.
In aromatherapy, the unique scent of Breathe Easy oil is uplifting and refreshing, revitalizing and awakening the senses.
Blended oils can be combined with a carrier oil to be used on the skin and can also be used in a diffuser. We find that Breathe Easy oil's aromatherapy benefits truly shine when used in a diffuser or humidifier, filling any room with the bold, lasting scent.
PipingRock's Breathe Easy Oil is available in ½ oz. glass amber bottles with dropper tops.
Directions for Use
Add 3-5 drops of Breathe Easy Oil to a diffuser or vaporizer, to a bowl of steaming water or a hot bath to fill a room with its minty aroma. As a blended oil, it can also be used topically when combined with 10 mL of any carrier oil.
Breathe Easy Oil is for external use only and should be used topically. Do not apply to broken or irritated skin. Always consult your trusted physician before adding any essential oil to your regimen, especially if you are pregnant, nursing or taking any medications. Discontinue use and alert your doctor should an adverse reaction occur. Keep out of reach of children and away from eyes and mouth. Essential oils are flammable.