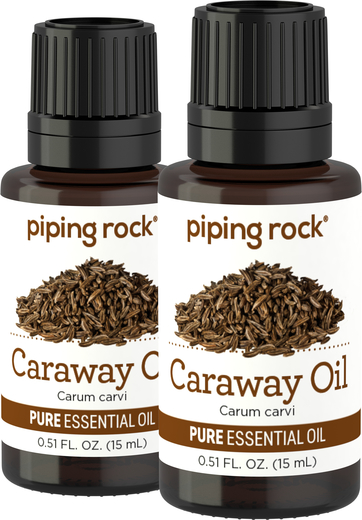 Derived from the seed of the flowering herb, caraway oil's peppery aroma is also known for being warm and subtly sweet. This oil, steam distilled from the flower of the plant, may:
Rejuvenate the senses**

Promote a centering energy**

Instill feelings of revitalization**
Read more about Caraway Oil
What is Caraway?
Native to Asia, Europe and Northern Africa, the caraway plant is closely related to fennel, cumin, and dill. Its seeds, which are also its fruit, have a pungent flavor similar to anise. Caraway has been used for ages in culinary practices as a spice in bread and other baked goods, as well as in cheeses and meats. Caraway has a long-standing tradition of use in folk practices due to its many benefits.
Steam distilled from the plant's seeds, caraway oil's peppery aroma is warm and subtly sweet, making it a popular fragrance component in soaps, lotions, and perfumes.
Caraway Essential Oil
Caraway oil can rejuvenate the senses, instilling feelings of revitalization. It also can promote a centering energy that connects us with purpose, making it an excellent choice for aromatherapy practices. It is a popular addition to skincare and cosmetic products due to its warm and subtly sweet scent.
Blending essential oils opens up a world of wellness possibilities! Other oils that complement caraway oil's herbaceous fragrance include: anise, bay, black pepper, cinnamon, frankincense, ginger, jasmine, and mandarin oils.
PipingRock's pure Caraway Oil is available in 1/2 oz. bottles.
Caraway Oil Directions for Use
Add 3-5 drops of Caraway Oil to a diffuser or vaporizer, to a bowl of steaming water or a hot bath to fill a room with its spicy-sweet scent. To use topically, add ~5 drops of Caraway Oil to ~10 mL of any PipingRock carrier oil.
Caraway Oil is for external use only and should be diluted in a carrier oil such as sweet almond, jojoba, grapeseed or avocado oil before being used topically. Do not apply to broken or irritated skin. Always consult your trusted physician before adding any essential oil to your regimen, especially if you are pregnant, nursing or taking any medications. Discontinue use and alert your doctor should an adverse reaction occur. Keep out of reach of children and away from eyes and mouth. Essential oils are flammable.