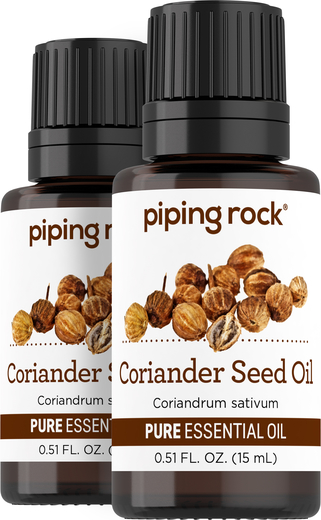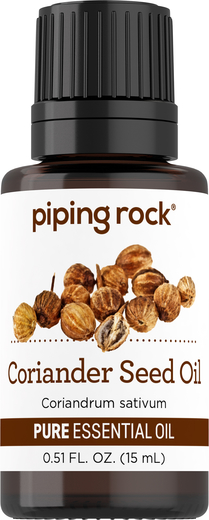 Derived from the annual herb, coriander oil's warm and spicy aroma is also slightly sweet with musky undertones. Coriander oil, steam distilled from the seeds of the plant, may:
Stimulate creativity and intuition**

Help ease occasional stress**

Support feelings of peace and joy**
Read more about Coriander Oil
What is Coriander?
A popular culinary herb, the coriander plant is also known as cilantro. Thought to have its origins in the Mediterranean, southwestern Asia, North Africa, and southern Europe, coriander is used as a fragrance in perfumes, soaps and creams but is perhaps most known as an ingredient in cuisines from all over the world. Now grown all over the world, coriander is frequently incorporated in Mexican, East Indian, Chinese, Latin American, Middle Eastern, and African cooking practices.
Coriander Essential Oil
Steam distilled from the coriander seeds, its aroma is strong and spicy. In aromatherapy, coriander oil helps support feelings of peace and joy and can help ease occasional stress while promoting soothing serenity. For some, this potent oil may help to stimulate creativity and intuition.
Blending essential oils opens up a world of wellness possibilities! Other oils that complement coriander oil's herbaceous fragrance include: bergamot, black pepper, cinnamon, citronella, clary sage, cypress, frankincense galbanum, ginger, grapefruit, jasmine, juniper, lavender, lemon, neroli, orange, petitgrain, pine, and sandalwood oils.
PipingRock's pure Coriander Oil is available in 1/2 oz. bottles.
Coriander Oil Directions for Use
Add 3-5 drops of Coriander Oil to a diffuser or vaporizer, to a bowl of steaming water or a hot bath to fill a room with its spicy-sweet scent. To use topically, add ~5 drops of Coriander Oil to ~10 mL of any PipingRock carrier oil.
Coriander Oil is for external use only and should be diluted in a carrier oil such as sweet almond, jojoba, grapeseed or avocado oil before being used topically. Do not apply to broken or irritated skin. Always consult your trusted physician before adding any essential oil to your regimen, especially if you are pregnant, nursing or taking any medications. Discontinue use and alert your doctor should an adverse reaction occur. Keep out of reach of children and away from eyes and mouth. Essential oils are flammable.