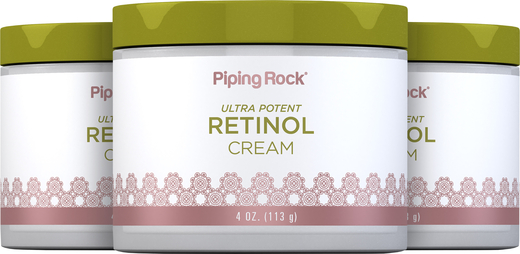 Derived from vitamin A, retinol cream is a moisturizing skin care cream that works to hydrate all skin types. Accentuate your skin's natural glow with PipingRock Retinol Cream that is designed as:
Read more about Retinol Cream
What is Retinol Cream?
Retinol Cream is a topical formula that supplies a special form of vitamin A. Retinol cream was first used as an effective natural supporter of healthy skin.** Today, the skin cream may be most popular as a rejuvenating anti-aging formula that helps keep skin firm and supple.** Retinol cream is believed to help with fine lines and wrinkles, and may also help to even out skin tone by reducing the appearance of age spots caused by sun exposure.** Considered a high-quality cosmetic aid, it is also valued for its ability to hydrate and protect the skin.**
Retinol appears to have many skin-supportive biological activities. Retinol cream supplies a special form of vitamin A, with molecules small enough to be easily absorbed into the skin. Here, vitamin A helps to optimize production of collagen and elastin, two major "building block" components of skin. Both collagen and elastin are known to decline naturally with age. This decline may be linked to age-related skin sagging, thinning and loss of elasticity. In helping to restore healthy collagen and elastin production, retinol cream may supply anti-aging activity that reinforces skin's suppleness and firmness.**
The cream is also believed to block destructive enzymes known as Matrix metalloproteinases (MMPs) from degrading and "unraveling" the collagen matrix that gives skin – along with all connective tissues – its strength and structure. Finally, retinol may help to spark and accelerate cell turnover: The replacement of old skin cells with fresh new ones.** These additional activities may provide even more support for youthful, healthy-looking skin.
Retinol Cream Products
Retinol cream supplements may fall under the categories of skin health, anti-aging, and skin cosmetics, due to their ability to fight skin problems while supporting younger looking skin. Some retinol creams may also include additional skin-supportive topical nutrients, such as vitamin E.
Retinol Cream Directions for Use
Retinol creams are designed to be applied topically to freshly-washed skin; usually the face and neck. There is no standard recommended retinol cream dosage; always follow the manufacturer's directions. The cream is applied sparingly with special care taken to avoid the eye area. Once the cream is absorbed into the skin, make-up and sunscreen can be applied if desired.